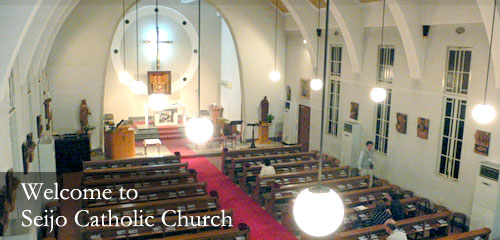 More information
For more information on our church, please visit the Catholic Church Archdiocese of TOKYO webpage.


Access and Contact
Seijo Catholic Church
2-21-16 Seijo, Setagaya-ku, Tokyo, 157-0066, Japan
Tel: 03-3417-5211
Fax: 03-3417-0790

Two minutes south from Seijogakuen-mae Station, Odakyu Line

Detail map

We invite you to worship regularly with us. If you wish to formally join our Parish Community, offering your time, talents, and financial support, please contact the office.
Welcome to our church
People of all nationalities and beliefs are warmly welcome to spend quiet moments of prayer in Seijo Catholic Church; it is always open.

Throughout the year, a variety of events bring us into closer friendship with each other and deepen our understanding of Christ's saving grace in our lives.

Although the mass is said in Japanese, there is usually someone who can assist those whose mother tongue is not Japanese.


Pastor: Father Ryotaro Thomas Aq. YAMAMOTO